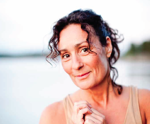 Jag arbetar med skönhet av alla dess slag.
Från naturlig skönhet som min bok heter, till makeup och hårstyling inom mode, reklam både stillbilder och film, musikvideos, tv, personporträtt, events, utbildiningar m.m.

Jag startade som frisör på Klippoteket utbildad av Vidal Sassoons i London. Jobbade sedan som hårstylist för Mika´s agentur och tog steget vidare och utbildade mig till make-up artist och sedan special effects i L.A. Är även gästlärare på Linda Mehrens make-up academy, se hemsida www.makeupacademy.se och online sminkkurs www.poppet.se

Under mina 25 år som hårstylist & make-up artist i branchen har jag jobbat med de flesta topp fotograferna och stylister både här i Sverige och internationellt. Jag har under åren haft nöjet och privilegiet att möta och jobba med ofantligt många fantastiska människor inom alla branscher. Det har resulterat i min bok "Naturlig Skönhet" som jag givit ut för att inspirera och ge redskap till att hitta sin väg till glädje, balans och därmed skönhet.

Mitt mål är att få de jag möter och jobbar med att må bra genom att stärka, ta fram det bästa hos dem och göra dem snygga.
I work with beauty of all kinds.
From natural beauty the name of my book, to makeup and hairstyling in fashion, advertising both stills and film, music videos, television, film and celebrity portraits .

I started as a hairdresser at Klippoteket in Stockholm, educated and trained by Vidal Sassoons in London. Worked further as Hairstylist represented by Mika's agency and then next step was to get educated as a make-up artist and then special effect make-up in L.A. I am also guest teaching at Linda Mehrens makeup academy, visit website www.makeupacademy.se and teaching online on www.poppet.se

During my 25 years in the business as a hairstyilst and make-up artist, I´ve been working with most of the top photographers and stylists both in Sweden and internationally. Over the years I have had the pleasure and privilege to meet and work with a huge number of amazing people in all kinds of buisenesses and branches. This has resulted in my book "Natural Beauty" which I gave out to inspire and provide tools to find the way to happiness, balance and beauty.

My goal is to help people I meet and work with, to make them feel good by strengthen, bringing out the best in them and make them beautyful.